| | |
| --- | --- |
| Sep 18, 2011 - 6:21 AM &nbsp &nbsp | &nbsp #1 |
Does anybody know the real reason of why CIN-1 is managed so lightly?

WIth ASCUS the protocol is rather aggressive. And it makes sense because this might the entry point to the diagnosis of cervical cancer but when CIN-1 is finally found, it suddenly slows down? Why?

The only reason that I can think of is the diagnosis in an adolescent, but if so, they should explicitly say it.

Does anybody have any idea of this rather arbitrary step in the protocol?


Prep4USMLE.com

Advertisement

xenopus

Forum Junior



Topics: 15
Posts: 646

| | |
| --- | --- |
| Sep 18, 2011 - 12:46 PM &nbsp &nbsp | &nbsp #2 |

OK, I think I found the answer.

LSIL or ASCUS are managed expectantly in women younger than 21 years old, possibly because many of these infections by HPV will be cleared. However, older women than 21 yrs do undergo a more aggressive protocol jumping to colposcopy. See below from First Aid. (Same information was not present in MTB 3 or Kaplan Notes).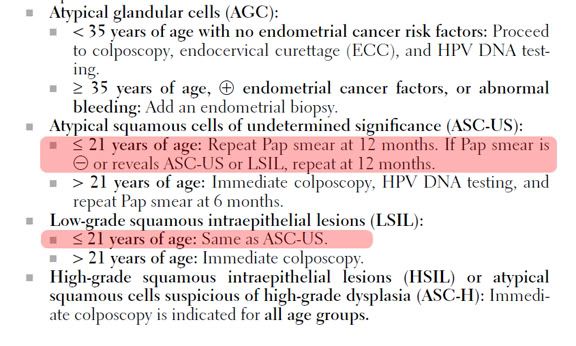 zoe87

Forum Newbie

Topics: 10
Posts: 35

| | |
| --- | --- |
| Sep 19, 2011 - 9:44 PM &nbsp &nbsp | &nbsp #3 |

In regards to CIN 1 its managed by observation since 65% of patients clear the infection (as mentioned in kaplan video)




On Sep 19, 2011 - 10:48 PM, xenopus responded:
Great! Thanks. I'll try to watch it but I'm running out of time. Best.




zoe87

Forum Newbie

Topics: 10
Posts: 35

| | |
| --- | --- |
| Sep 20, 2011 - 1:16 PM &nbsp &nbsp | &nbsp #4 |

goodluck